Betoota
Betoota is located 170 kilometres east of Birdsville and stands on a vast gibber plain. While Betoota usually has a population of 2 or 3 (the pub staff), it is rarely quiet!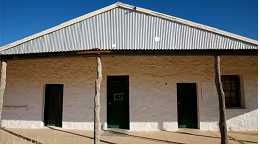 Betoota is 70 metres above sea level and has an annual rainfall of just 300 millimetres. The Mithaka nation has inhabited this region for thousands of years, and exciting anthropological and archaeological research in conjunction with traditional owners is being undertaken in the area to learn more about their history. In more recent history (1885), the Queensland Government set up a customs post in Betoota to collect tolls for stock that were being moved to South Australia. The toll station operated until Federation in 1901.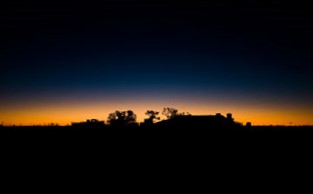 Betoota was also a Cobb & Co change station. In the 1880s, Betoota supported three hotels, a police station, store and post office. Outback road trips and adventures were vastly different in the 1880's!
The last-standing hotel is a favourite spot for tourists. As the only business in town, you would think that it is fairly quiet most times, but it's such a popular place that there is always a buzz of travellers there!
Points of interest in Betoota include Browns Creek, as well as Deon's Lookout; the perfect place for travellers to take a break and admire the spectacular view. You can also visit The Dreamtime Serpent – a work of art representing a series of pathways travelled through Country to connect the river systems in the Channel Country of the Diamantina Shire.
FAQ's
Betoota does not have any mobile coverage. Satellite phones are recommended for travel in remote areas.

The Betoota Hotel is a popular pub and are ready to serve.

No. There is no pharmacy in Betoota so please make sure you bring an adequate supply of medication with you. There is also no medical clinic. The closest medical services to Betoota are in Birdsville.

Driving from the East: We are 220 km west of Windorah, and approximately 100 km is unsealed.

From the West: We are 166km east of Birdsville, and much of this is unsealed road.

From the South: We are 346km north of Innamincka, and much of this road is unsealed.

REMEMBER TO ALWAYS CHECK ROAD CONDITIONS BEFORE TRAVELLING, AND TAKE ENOUGH FOOD AND WATER FOR THE JOURNEY.

Queensland Road Conditions: https://qldtraffic.qld.gov.au/

South Australian Road Conditions: https://www.dpti.sa.gov.au/OutbackRoads

Northern Territory Road Conditions: https://roadreport.nt.gov.au/road-map

There are public toilets at the Betoota Hotel, as well as at Deon's Lookout and The Dreamtime Serpent.